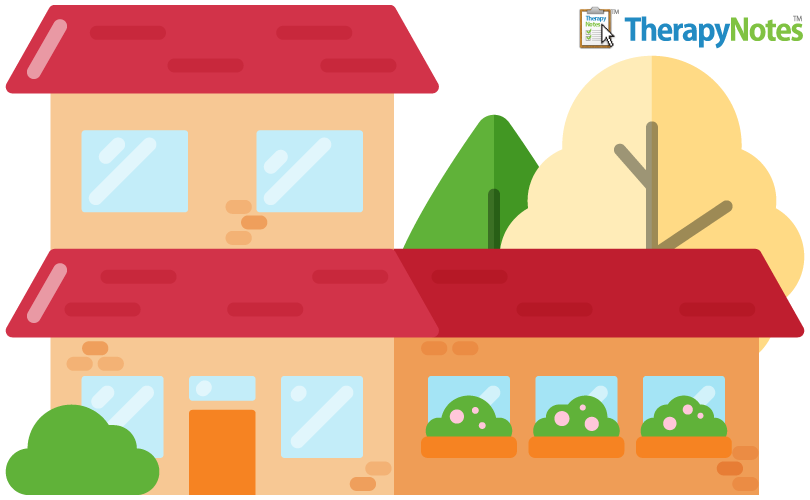 "I need more space!" Group practice owners often feel the need to grow after a slew of days referring clients out or squeezing that last therapist into some open slots. But this blog isn't about the pressure of growth; if you feel pressured to grow, slow down and go back to your business plan. This blog is for those group owners who may be feeling the tight squeeze of an outgrown office space.
If you are ready to grow, congratulations! You're rocking and rolling your way to becoming an amazing presence in your community. Now, it's time to decide if you should expand in your existing space or set your sights on a completely new location.
Although there is no clear-cut path, asking yourself the right questions will lead you to the best answer. Ask yourself: Is my current location slowing down on new calls or referrals? Are there still needs for mental health services in my community? Does my business plan have multiple locations on the horizon? If so, do I have a specific location or area I that would like to expand into?
Multiple locations can mean juggling multiple tasks. Reflect on whether you have difficulty managing many things at once. Analyze if you have made your practice systems and procedures both clear and concise. Evaluate any issues you may have with your staff or workplace culture. Consider possible financial issues or if you still handle everything in your business. These questions will likely have you leaning in one direction or another. Before you jump to your answer, let's talk about some of the pros and cons of expanding within your current location as well as outside of it.


Expanding from within
PROS: You're already here. Your community already knows you exist, which requires less marketing effort. You won't need to set up an entirely new space, and there will be less disruption if you stay put. There will be no pains providing your new location to insurance companies, and you can help more people within your present community. Managing a single location is much easier than managing multiple locations. Rent can also be better negotiated as you grow larger and become a keystone business for your landlord.
CONS: If you expand within, you don't reach new geographic areas, which means you may not have enough referrals to fill the new growth. There can also be issues with landlords that could affect your much larger business. The larger you are, the harder it may be in the future to move a bigger, single business than it would be to move a smaller practice.


Expanding externally
PROS: If you grow outside of your current location, you can reach new communities. When a current location has maxed out its ability to expand, a new location is a great way to continue evolving. If finding quality clinicians in your area is difficult, a new location can sometimes help to attract new therapists.
CONS: Expanding outside of your current location is like building a new business. Carrying over practice culture into a new location is not for the faint of heart. This route can be more expensive as it can double your internet, rent, phone, shredding, gas, and electricity costs. Additionally, you'll need to travel more, or you'll need more support in the new location. It can be difficult to remain on top of things; potentially managing multiple leases, landlords, and/or internet issues can mean more running around.


Do these points help one method stand out to you over another? Growing your business is like deciding to have a baby; you'll never feel fully ready, but when you know, you know.
* The content of this post is intended to serve as general advice and information. It is not to be taken as legal advice and may not account for all rules and regulations in every jurisdiction. For legal advice, please contact an attorney.