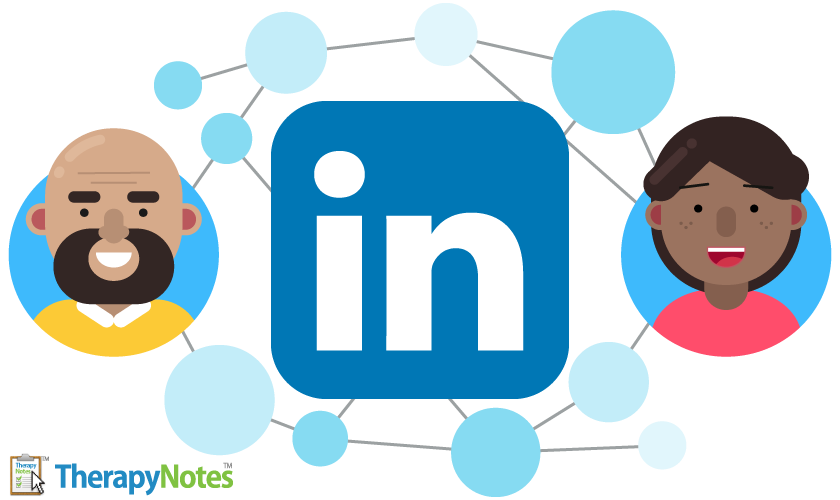 If you've been using Facebook and Instagram to try to market your practice and haven't experienced success, you may want to look towards LinkedIn.
A few weeks ago, a therapist mentioned to me that her clients, most of whom are older and professionals, aren't on Instagram. LinkedIn came up in conversation, and it became apparent that this is an untapped market for many clinicians. While not all therapists will be able to use LinkedIn to create referrals, there are specific niches out there for which LinkedIn could do wonders. This can also be a great referral source if your practice offers corporate workshops and coaching, wonderful supplemental services that many therapists and counselors offer in their practice.
Here are six tips for creating referrals through LinkedIn.


1. Optimize your profile
Update your profile on a regular basis and include interesting tidbits about your role as a counselor. Share your specific strengths and skills related to your niche and ask other professionals to endorse you for those skills—this helps position you as an expert.
Be sure to include your website since one of the main goals of any marketing effort is to drive referrals to your website.


2. Connect with like-minded individuals
LinkedIn lets you "connect" with people. Find people who have similar interests, and be sure to connect with them. If you want to work with college-aged students, it might be beneficial to connect with professionals from local universities. They are often the ones making the referrals for counseling rather than the college students themselves.
Always look at your connections through the lens of: "How can we best serve each other?" Even if you cannot directly serve your connection, they may be able to connect you with other like-minded individuals as well.


3. Post to your blog on a regular basis
As always, you'll want to continue to drive potential clients to your website. One common, effective way to accomplish this is to write posts around your niche and share these posts with your network. Share the link to your blog post on your LinkedIn profile and encourage others to share it as well.
Don't forget to include a call-to-action in the last paragraph of your post, such as, "Call today for your free 15-minute consultation." This gives your potential clients a clear next step to take, and they'll be more likely to get in touch with you.


4. Send messages to people to create reciprocal relationships
If you join LinkedIn, you may be inundated with messages from people trying to sell their services. A lot of people don't like to be sold to, but almost everyone does like to talk about themselves. When you send a message to a connection, be sure to include open-ended questions to encourage dynamic, genuine communication.
Stand out from the crowd and connect with people where you can use their services and then work on creating a reciprocal relationship where each of you send referrals to the other. By getting to know your referral source, they will grow to know, like, and trust you. Those are three key ingredients to establishing a quality connection.


5. Join groups around your niche and offer insights
There are many groups on LinkedIn for therapists that are available to join. Join groups that are specific to your area if you want to create connections through them. This may also be another place you can share your posts and other valuable information to build rapport and gain traffic to your website.
Sharing your posts can help people get to know your style and tone for therapy. Targeting your local market can help for in-office therapy, but also consider statewide groups if you offer teletherapy services or groups specific to any place you have a service location.


6. Engage with other people and build a network
It seems like a small thing, but people really appreciate when you like and comment on their posts, especially around their business. Show your support by reading other people's posts and engaging with them.
Remember: referral sources do not need to be only other healthcare professionals. Other small business owners in your area will certainly appreciate your interactions with their content. Any place where people congregate and interact with staff (such as coffee shops, bookstores, etc.) could be an avenue to make your name known. You can also target LinkedIn profiles for business owners where your niche clients may frequent, such as children's boutiques for post-partum issues.


What's next?
If you think your clients may be on LinkedIn, consider revisiting how you use the platform. Posting daily and engaging with people can be a fun way to drive more traffic to your website, thus leading to more and more referrals to your practice.
Don't forget to connect with TherapyNotes™ on LinkedIn to keep up with the latest industry news and practice management tips.
* The content of this post is intended to serve as general advice and information. It is not to be taken as legal advice and may not account for all rules and regulations in every jurisdiction. For legal advice, please contact an attorney.