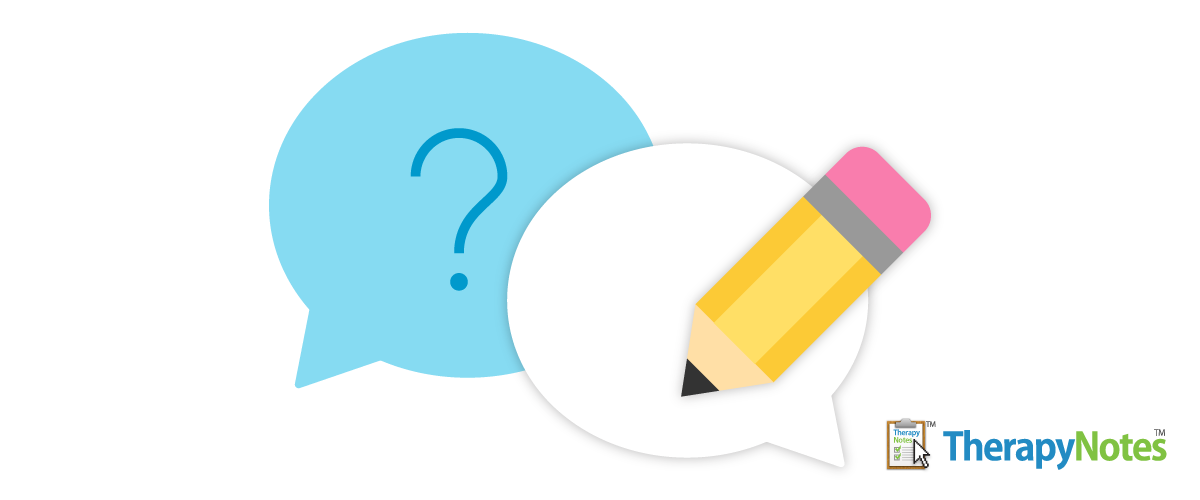 Opening your own practice can present a number of challenges. Beyond your clinical expertise, you are now required to be a business owner and don the many hats that come with it. Private practice owners must develop a business plan, build a brand, manage finances, and so much more. Out of all the new responsibilities that come with owning a business, many clinicians find that the most nerve-wracking hurdle is bringing new clients in.
Learning from those who have been in your shoes can be a powerful tool. In our October newsletter, we asked members of the TherapyNotes™ community how they attracted their first client in private practice. Here's how your peers brought their first clients in.
Professional Referral Network
Often, clients may approach their PCP or other specialty provider about their mental health before going to a therapist. As such, forming genuine, reciprocal relationships with other providers can be a powerful tool in getting new clients. As Katherine A shares:
"I held a luncheon at a large pediatric office and was able to introduce myself and my specialty of Play Therapy as well as answer any questions. Since then, they have been a huge referral source."
Similarly, Arlene L shares her experience starting off with no professional contacts. For Arlene, part-time work at a domestic violence agency helped her build her professional network:
"When I was setting up my practice I was living in a new area where I had zero professional contacts. I decided to take a part time position as a family therapist with a domestic violence agency as a way to supplement my income as I built my practice, while doing some meaningful work and meeting new people. While at the part time position, I met a talented woman who worked closely with me in her position as a play therapist. I ended up renting space in the same suite where she was establishing her first private practice, and there I met our third colleague, an art therapist. Both of these women were wonderful contacts for me, and my first referrals came from the art therapist, who was a bit better established in the area and would get calls from potential clients that she could not accommodate. I cannot stress enough the importance of collegial contacts in setting up a successful practice."
Your professional network further extends to your clients, and once you've established your practice, clients can become an important referral source. Colleen M shares:
"My first client in private practice came from a referral from a client I saw before I opened my own center. Referrals are my best advertising."
As you develop your professional referral network, talk with your clients to learn about the other professionals they see. Network with professionals from diverse disciplines, and see where you fit in to the existing network of providers. Most importantly, don't forget to reciprocate; take the time to understand which clients would be best referred to which provider. If you refer clients to another provider, that provider will be more likely to refer clients to you in turn. Your colleagues and your existing clients can be crucial in the growth of your practice.
Online Advertising
Most of us turn to the Internet to find everything from popular restaurants to crafting instructions, and inquiries about mental health are no different. A strong online presence is crucial for new clients to discover you - when a local client searches for "therapists near me," you want your practice to be at the top of the list of search results. Heather Y shares how important an online presence can be:
"My first private practice client came from a doctor referral where the doctor could not spell the last name. The client tried to find the person referred to, and the only Heather she found in the area was me, so she called me. She was actually referred to someone else who did not advertise."
The more you promote yourself online, the more likely a client is to find you. Create a thoughtful website with details about your services and specialties to appear organically in search results, and consider using Google AdWords to target specific Internet searches and ensure that you're always reaching potential clients. Maintaining an active presence on social networks like Facebook and LinkedIn can also help you market your practice to a wider audience, drive more traffic to your website, and attract new clients.
Therapist Directories
For several community members, their first clients came from online directories, where potential clients can search for and find therapists. Your listing includes information such as location and specialties, to ensure you are found by the right patients. Kathy S says:
"I attracted my first client through Psychology Today. The mother of my grown client found my profile listing, and she told her daughter she should contact me since my specialties included her daughter's concern."
Betty C similarly saw success with a Psychology Today listing:
"I posted my ad in Psychology Today thinking I had a least a month to finalize everything to open my practice. I got a phone call a week after the ad went live and had to start working with clients earlier than I thought. It was a great surprise!"
Beyond Psychology Today, FindaPsychologist.org by the National Register of Health Service Psychologists, Open Path Psychotherapy Collective, and GoodTherapy.org offer online directories for clients to easily find mental health professionals to work with. Being listed on FindaPsychologist.org requires becoming a National Register Credentialed Psychologist, allowing your prospective clients to have the utmost confidence in your education, experience, and ethics. To be on Open Path's unique directory, OpenPathCollective.org, you agree to Open Path's commitment to provide greater access to affordable therapy services and see at least one client at a reduced rate, allowing you to be found more easily by individuals in need. Consider joining the GoodTherapy.org community of therapists and treatment facilities who believe in the principles of ethical therapy. Directories like these devote significant energy to search engine optimization (SEO), so your practice will be more likely to appear in Google search results when clients are looking for your services.
Insurance Referrals
Insurance referrals can provide you with a reliable, consistent flow of new traffic, and we want to make sure that this important client source doesn't go overlooked. While many providers decide not to accept insurance, getting on insurance panels could help you bring in more clients and may even affect the success of your referral network and online advertising efforts. By joining an insurance panel, you will be added to that payer's database, allowing covered clients to find you organically when searching for in-network providers. Additionally, your colleagues may be more likely to refer clients to you if you participate in the same insurance networks, and in therapist directories, clients may filter their searches to exclude providers who do not accept their insurance.
There are numerous ways to reach new clients, and you may find varying degrees of success from each approach depending on your specific location and services. Try different approaches to see which get you the clients you're looking for, and be sure that potential clients always have a way to find you.
Thank you to everyone who responded! Subscribe to the TherapyNotes™ newsletter for more opportunities to share your experiences with the rest of the TherapyNotes community. Your response could be featured in an upcoming blog post.
Do you have a unique story about how you attracted your first client? Leave us a comment!
* The content of this post is intended to serve as general advice and information. It is not to be taken as legal advice and may not account for all rules and regulations in every jurisdiction. For legal advice, please contact an attorney.