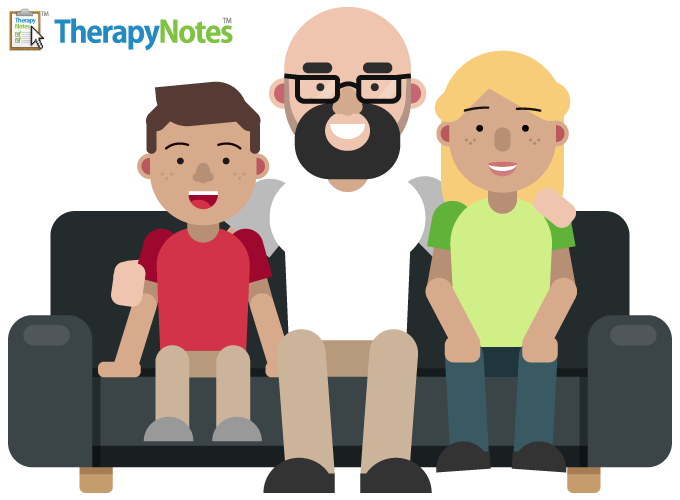 There's a lot of information out there about family CPT codes, spread across multiple sources. So, we thought we'd consolidate it for you. Here's what you need to know about 90846 and 90847.
What are family codes?
The CPT codes 90846 and 90847 are used for face-to-face or telehealth family psychotherapy sessions of 26 minutes or longer.
The main difference between these codes is that 90846 is used for appointments when the patient is not present, and 90847 is used for appointments when the patient is present. Often, these appointments entail family participation in the treatment process of a person in that family. If a married couple identifies as a family, they may qualify for the family code as well depending on the insurance. When it's a child being treated, it's usually with the expectation that intervention in their family interactions will improve their emotional or behavioral disturbances.
If a family member is brought into individual psychotherapy sessions intermittently or briefly, you don't have to bill these family codes. You can use individual psychotherapy codes, 90832, 90834 or 90837. Just make sure the intent of the session/s is not the family member's benefit. The patient can get some benefit by having the family member there, but if both people are benefiting, then you must use 90846 or 90847, since family sessions are about all individuals in the session benefiting from the service.
Billing these codes
To bill 90846 or 90847, you must choose one person in the family as the identified patient (ideally the primary holder of the insurance or the one with the more severe symptoms). List only that person's name and diagnosis on your claim and no one else's in the family. Also, be clear about the focus of the session in your documentation.
You generally can't bill 90846 or 90847 when the service being performed is taking a family history or requesting a brief update on the patient's behavior prior to or after the individual session takes place. Family counseling also doesn't typically include the supervision of or therapy with professional caretakers or staff.
In terms of same-day billing, family therapy codes can be reported on the same day as psychotherapy codes 90832-90834 and 90836-90838 if the services are separate and distinct. You can also typically bill individual and family therapy codes on the same day if they're two separate counseling sessions, with one including only the patient and the other including both the family member and the patient.
Billing 90846 and 90847 on the same day as each other for the same patient is often not allowed, regardless if it's two separate sessions.
Getting reimbursed
Insurance policies differ when it comes to family codes.
Some insurance providers, like Medicare, cover family psychotherapy services only when the primary purpose of the visit is the treatment of the patient's condition. Examples of this include:
When there is a need to observe and correct, through psychotherapeutic techniques, the patient's interaction with family members
When there is a need to assess the conflicts or impediments within the family, and assist, through psychotherapy, the family members in the management of the patient
You may also run into limitations such as:
Only being able to bill family codes a certain number of times a year
Specific age-requirements for children being treated
Adult patients not being covered
As you can see, being reimbursed for family therapy appointments can vary quite widely. Make sure you find out when you can use these codes before proceeding with these sessions. Good luck!
Sources: CPT® (Current Procedural Terminology), American Medical Association; Psychotherapy coding clarifications, telemedicine code modifier added to CPT manual, APA Practice Organization; Coding and Billing Guidelines, Centers for Medicare & Medicaid Services; Does Insurance Cover Couples Therapy?, GoodTherapy; Billing for Couples and Family Therapy, Barbara Griswold, LMFT
* The content of this post is intended to serve as general advice and information. It is not to be taken as legal advice and may not account for all rules and regulations in every jurisdiction. For legal advice, please contact an attorney.