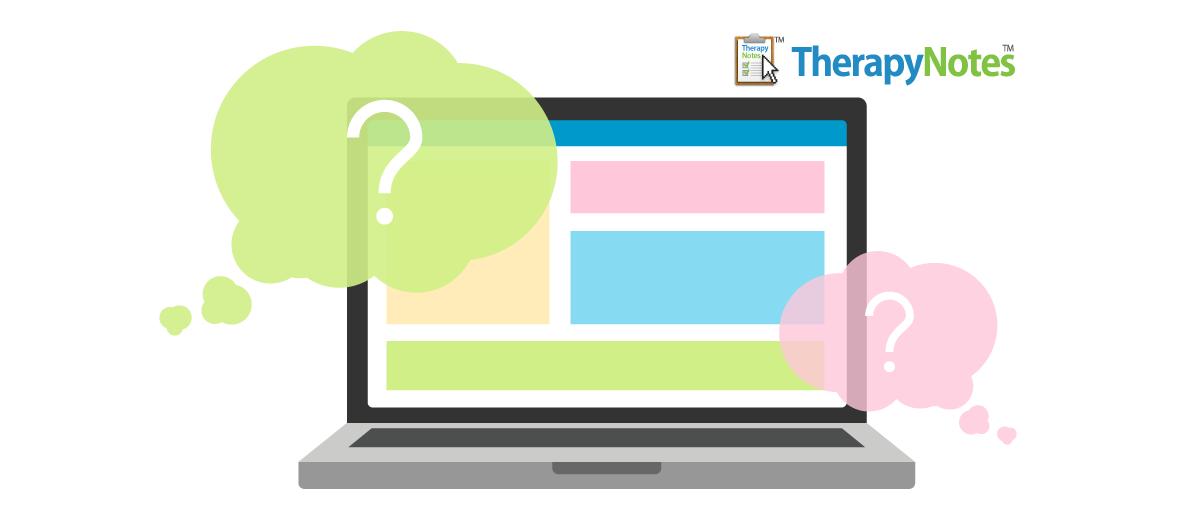 Electronic health record (EHR) systems are designed specifically to organize your practice and streamline your workflow, all while saving you from the headaches associated with keeping paper records. Yet, despite knowing the benefits an EHR can deliver, moving away from paper for the first time or switching to a new EHR can feel like a monumental task. Of all the options available, how do you know you're selecting what's right for you? Here are some of the questions you should consider to ensure that the EHR you choose is the right fit.
1. Is it made for behavioral health?
There are plenty of EHRs out there, but only a few are tailored to the specific needs of psychologists and therapists. When evaluating different programs, make sure that the ones you're considering are designed specifically for mental health providers. That way, you'll be sure to find the features you need the most to support your practice, such as specialized intake and session notes.
2. How do you plan to use it?
Make sure the EHR and practice management software you choose has the features you need now as well as what you will need as your practice grows. You'll likely want a system that's great at scheduling, billing, and medical records, but have you considered other features such as appointment reminders, credit card processing, or electronic claims? Additionally, make sure the company is continuing to reinvest into continued improvements of the software as the healthcare industry continues to change.
3. How can you test drive the EHR?
Reading a list of features and watching a short demo is not enough to make a decision on software you could be using for the rest of your career. Utilize free trials to extensively review your top contenders, and schedule live demonstrations with sales representatives. A solution that seems like a good fit from their website could be full of quirks or limitations that you won't be aware of until you start making full use of the features.
Additionally, consider your cancellation options. Avoid long-term contracts - you should have the flexibility to switch if your chosen EHR isn't the right fit. Also be sure there is a way to maintain your records in accordance with retention requirements with a HIPAA-compliant storage option.
4. What happens when you need help?
Make sure that you'll be able to get in touch with the EHR's support team to help you solve issues in a timely manner. Try calling their support during your free trial and evaluate your experience. Is their number easy to find? How long did they take to answer the call? Did you receive the answers you need? Be mindful of how you can get in touch with the support team - sending patient information by email puts you at risk for a HIPAA violation. Additionally, make sure that the EHR's self-serve knowledge base includes clear and thorough resources.
5. Do you trust the company?
By using an EHR, you are putting your medical records into the hands of others. Make sure that the company is trustworthy and dependable. How long have they been in business? How many customers do they have? Are they transparent about who they are? Have you read customer reviews?
How does TherapyNotes compare?
TherapyNotes is specifically designed for behavioral health clinicians with carefully designed note templates and a workflow that accommodates your needs. TherapyNotes has an extensive list of features yet is designed to be easy to use. We offer a 30 day free trial which includes all of the features of TherapyNotes. Service is month-to-month with no long term contracts, and we offer a storage mode for when you retire. If you need help, we offer unlimited, top-notch phone support (215-658-4550), as well as online resources for you to find the answer you need. We work very hard to earn the trust of our customers. We launched TherapyNotes in 2011; we currently have 50 team members; and we have over 30,000 customers. We encourage you read our reviews and get to know more about our team by browsing our blog and following us on social media.
* The content of this post is intended to serve as general advice and information. It is not to be taken as legal advice and may not account for all rules and regulations in every jurisdiction. For legal advice, please contact an attorney.