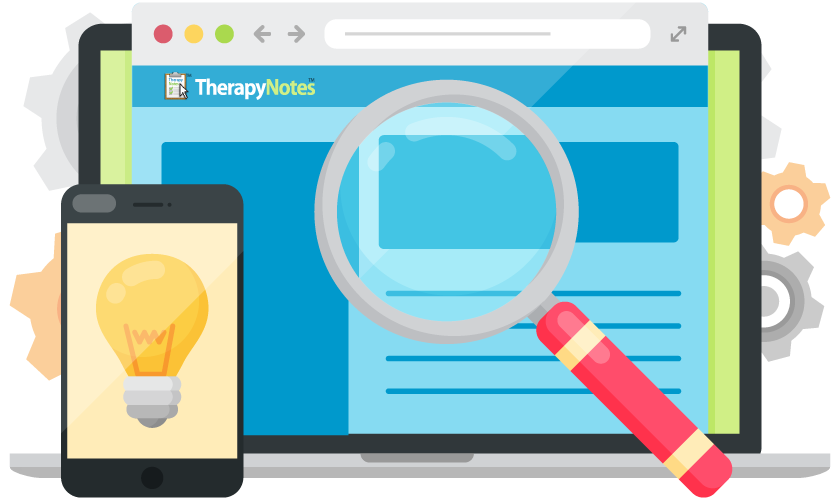 Would you stop seeing a client just because they came in one day feeling good? Probably not. So, why would you stop marketing your therapy practice just because you're currently full?
One of the many challenges therapists face is getting a steady stream of clients, dropping your marketing strategy, and feeling on top of the world, only to have those clients finish up. Then, without a full schedule, you need to start marketing again. Many therapists stay on this roller coaster their entire career because they don't have a system in place that continues to attract new clients even when they're full.
As Allison Puryear mentions in her blog post Marketing is (Mostly) Time-Limited, you're free to significantly cut back on your marketing when your practice fills up. However, search engine optimization (SEO), or keeping your website fresh and current so that it's easy for clients to find, is a marketing strategy that should persist even when you have a full practice. Here are four invaluable reasons to keep focusing on SEO even when you're full.


1. Help your practice stay full
You may have a full schedule now, but you likely won't have those same clients forever. Depending on your specialties and modalities (some people do brief solution-focused modalities and clients are all relatively short-term), you may need new clients every few weeks or months to replace the clients who are finishing their work with you.
Keeping your website in tip-top shape even while you're full ensures that potential clients can find you. SEO is a long-term strategy, and if you wait until you need to fill your practice to start optimizing your website, it could take weeks or months before you're full again. Continuing with your SEO strategy when you already have a full client load allows you to create a wait list and fill open spots with ideal clients.


2. Improve client fit
Speaking of ideal clients... Just because your practice is full doesn't mean it is full of the clients that are best aligned with your goals. For example, let's say you offer couples counseling. Your practice is completely full, but you're primarily seeing couples on the verge of divorce, and you'd really like to spend more time working with couples who are looking to enrich their relationship.
When you continue giving attention to your website after your practice is full, you can fine-tune your content and strategy to ensure you aren't just full but also attracting the clients who are a fit for your approach and who you want to work with.


3. Drive more productive consultation calls and first sessions
Many potential clients use a consultation call or initial session to get a feel for your style and decide whether you are a good fit for them. Others ask questions to learn more about your practice; your fees, session length, whether you accept insurance, your cancellation policy, etc.
If a majority of potential clients are asking the same questions, you could be losing precious hours of productivity. Instead of addressing the same questions individually, you may be able to add that information to your website. This ensures that your first communication with a client is less about your practice policies and more about their unique needs and goals.


4. Continue growing your practice over time
Your practice isn't limited to the specialties on your site when you first went live. Adding new content to your website, such as specialty pages and blog posts, is an essential part of growing your practice over time. Search engines like Google want to see that your site is regularly updated, and if you stop your SEO strategy when your practice is full, it could cap your growth by limiting how many potential clients see your website.
By continuing to analyze data and improve your SEO strategy after you're full, you can fine-tune your marketing so that you attract not just more clients but more of the clients you enjoy working with. You may also find that there are related services your clients may need that you hadn't initially planned on offering, such as group sessions, online counseling, or another specialty you enjoy that you don't yet have a page for.
A surplus of interested clients gives you the opportunity to grow from a solo practice into a group practice or from a group practice into an even larger group practice. When you have a growth mindset and continue your SEO strategy even when your practice is full, you're in a position to make changes, adjust to client needs, and add new content quickly and easily.
If you still aren't sure how to keep marketing your therapy website when your practice is full, consult an expert or agency you trust that can point to proven results.
* The content of this post is intended to serve as general advice and information. It is not to be taken as legal advice and may not account for all rules and regulations in every jurisdiction. For legal advice, please contact an attorney.