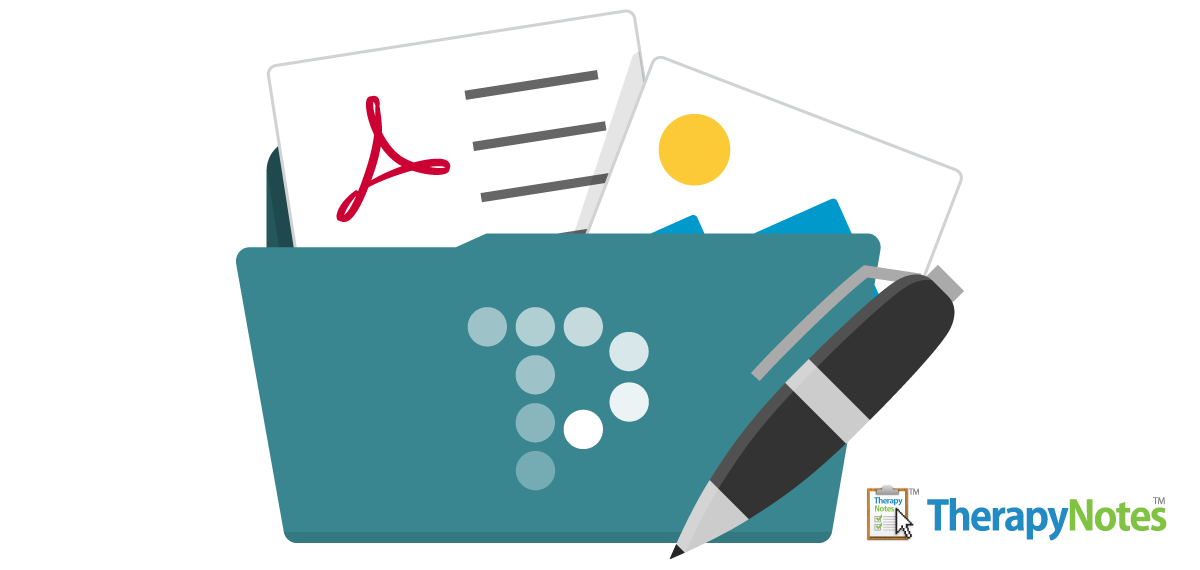 After rigorous planning, development, and testing of TherapyNotes 4.35, we're happy to release the ability to securely send documents for your clients to review and sign online through TherapyPortal™.
This new feature offers two options for sharing documents with clients:
1. Request electronic signatures
Send your Notice of Privacy Practices, Service Contract, or other agreements to your clients before their intake or session. Your clients can read and sign paperwork electronically at their own convenience without sitting in your office, allowing you to spend more valuable time in session.
2. Share review-only documents
Share homework, diagrams, or any other document with your clients to review. This option doesn't require your client's signature but instead asks your client to view or download the shared document. You can even send blank forms to your clients and add custom instructions for them to print the form, complete it, and bring their completed form with them to their appointment.
Please note that this feature does not include the ability for clients to complete forms online. This is one of the many improvements we have planned for our client portal, and many more portal features will be added with upcoming releases of TherapyNotes™.
To begin sharing documents with your clients:
Upload documents to your practice's Document Library. If you already have documents in your Library, edit your existing documents to make them eligible for sharing and indicate if they require a client's signature.
Select a client to share documents with, and create a document request from the Portal tab of your client's chart.
Send the document request to your client with the click of a button. Your client will receive an email notification to review or sign the documents on TherapyPortal™.
Receive your client's electronic signature directly in TherapyNotes™.
Send Documents From Your Library or Upload Client-Specific Documents
Share brochures, handouts, or agreements that your practice has stored in your Document Library, or upload whatever unique documents you need to send to a client. You have full control over the paperwork you send to clients.
You aren't limited to sending text-based files like Word documents or PDFs. Files of any type can be included in your document requests—send charts, diagrams, or whatever you decide you want your clients to review.
To learn how to send documents to your clients, read How To: Share Documents With Clients on TherapyPortal on our Help Center.
Know the Exact Status of Your Document Requests
You choose whether clients need to sign documents or simply review them, and we'll show you when the document has been completed. Easily see if your client has reviewed or signed a document on the client's Document tab or Portal tab, and make note of which documents aren't completed so that you can remind your clients at their next session.
Receive Secure, Electronic Signature Records From Your Clients
The signatures drawn or generated by your clients on TherapyPortal™ are just as legally binding as physical signatures. Once a client signs a document on TherapyPortal™, a legal record of their signature is automatically stored in TherapyNotes™ and includes their drawn or generated signature, their legal name, and the date and time of the signature. Signature records are stored with the document in TherapyNotes™, helping you to keep your records organized.
To learn more, read How To: Check the Status of Document Requests and View Client Signatures on our Help Center.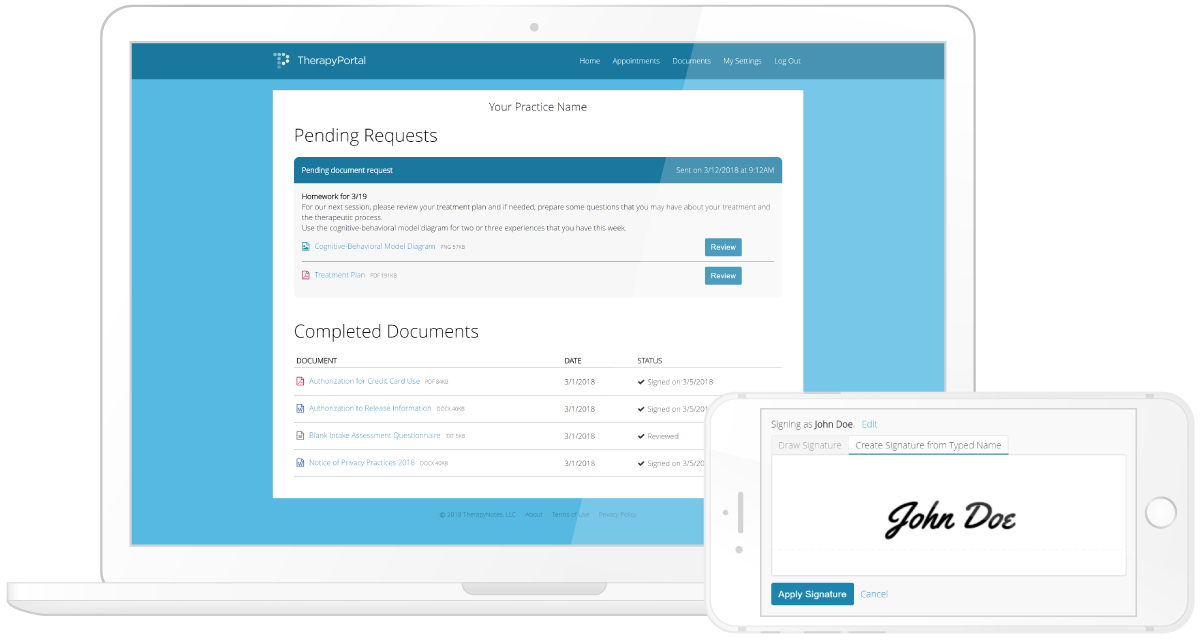 A Seamless Experience for Your Clients
We strive to make the client portal as simple and easy-to-use for your clients as possible, so we made sure that reviewing and signing paperwork on TherapyPortal™ is a breeze.
As soon as you send a document to your client, they'll receive an email notification to inform them that documents in their TherapyPortal™ account are pending their review. Once they log in, they can view their pending documents with the custom instructions you add in TherapyNotes™ as well as any documents they've reviewed or signed previously. Your clients have the freedom to download any document and its signature to store in their own personal files.
Reviewing documents is as simple as opening the document on TherapyPortal™, and clients can view PDFs directly in their web browser. Signing documents is as easy as signing with pen and paper, whether they're on a desktop computer, tablet, or mobile phone. Clients can draw their signature with their mouse, stylus, or finger, or they can simply type their legal name, and TherapyPortal™ will generate a signature for them. A record of their signature is available to them in TherapyPortal™ and to you in TherapyNotes™ as soon as they add their signature to a document.
If your client needs assistance, refer them to How To: Review or Sign a Document as a TherapyPortal User on our Help Center, or please feel free to contact us on their behalf. Our Customer Success team is available via phone or email from 9AM to 9PM ET, Monday through Friday.
* The content of this post is intended to serve as general advice and information. It is not to be taken as legal advice and may not account for all rules and regulations in every jurisdiction. For legal advice, please contact an attorney.