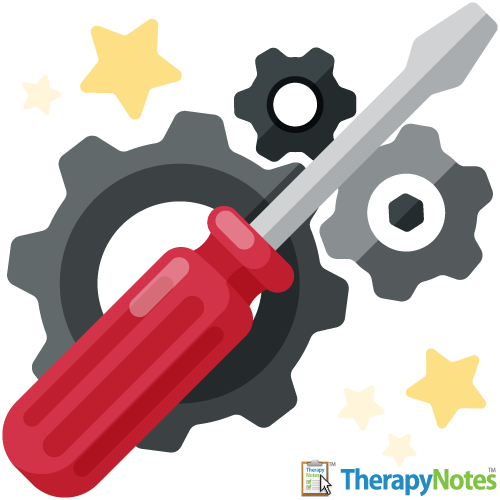 TherapyNotes™ 4.54 includes numerous improvements to make your TherapyNotes™ experience even better. Here are the key changes:
Orders can now be placed for our new supported encrypted USB credit card reader which makes charging credit cards faster and more secure. Card readers are compatible with Mac and Windows computers. Visit our help center to learn more about purchasing a card reader, and order your supported credit card from CardConnect.


When a clinician attempts to edit the service code for a note that has already been signed, we'll now display a warning to advise against this action. It's especially important to avoid changing service codes after claims have been submitted, except in scenarios where a rejected claim needs to be resubmitted with a corrected service code.




We've made dramatic performance improvements for common billing actions, including searching billing transactions, editing billing information on appointments, and submitting claims.




Practice Administrators and Clinical Administrators can now skip session notes on behalf of their clinicians by clicking the X icon on the to-do list or from the Notes tab of the appointment. This is not intended for typical use of TherapyNotes™, but may be desired if the notes were documented on paper or in a previous EHR. Notes are still required in order to use most billing features such as generating claims.




When creating multiple practice locations, we now prevent partial addresses from being entered, so it's clear what address to use for appointment reminders.




When creating or editing a payer, we now default the Insurance Type field to the appropriate option for Blue Cross/Blue Shield, Medicaid, TRICARE, Medicare, or Medicare Part B payers. The Insurance Type for all other payers will continue to default to "Other Insurance," although a different selection can be made as needed.




We've tightened the security of your patients' TherapyPortal™ accounts so that a patient's account is temporarily locked for 15 minutes after 15 failed login attempts.




The plus icon on the calendar can once again create appointments for iOS 13.1 users.




TherapyNotes™ can no longer be used with Internet Explorer 10, and a warning is now displayed to Internet Explorer 11 users that they also should upgrade to a more modern browser, such as Microsoft Edge or Google Chrome. Our analytics show that this affects very few customers.
In addition, stay tuned for these exciting services:
We are now prepared to offer MIPS reporting services! Medicare providers, you may be able to increase your reimbursements by up to 9%. Learn more about how TherapyNotes™ makes MIPS reporting easy.

We have begun a limited rollout for North Carolina's HealthConnex HIE. Once testing has concluded with North Carolina and these practices, we will make this service available to all of our North Carolina users.
* The content of this post is intended to serve as general advice and information. It is not to be taken as legal advice and may not account for all rules and regulations in every jurisdiction. For legal advice, please contact an attorney.