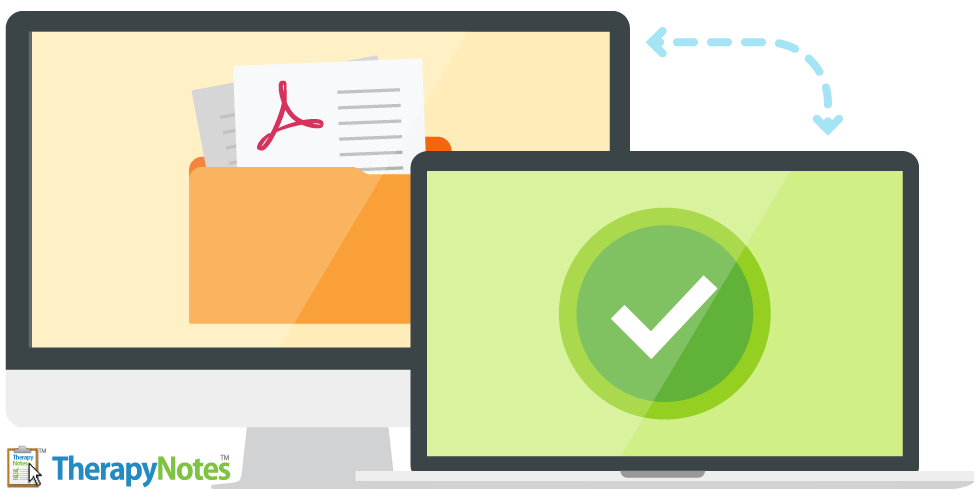 Paperless Intakes with Two-Way Document Sharing
With our latest improvement to TherapyPortal™, you can now share documents with your clients and request that they complete them and send them back to you. This improvement can be paired with our e-signature feature, allowing you to receive a completed document and an electronic signature from your client simultaneously.
This new feature works especially well with fillable PDF files, although you can also use other editable file types such as Word. Once you share a fillable PDF or Word document with your client, your client simply has to download the form, complete and save the form on their computer, and upload their completed form to TherapyPortal™. If they send a PDF back to you, you can view their full response right within TherapyNotes™. Alternatively, your client may also send you scanned paperwork if needed, and they technically do not need to send back the same file you sent them. For example, if you send your client homework instructions as a PDF, they could send you a Word document with their completed assignment.
Any completed documents will be added directly to the client's Documents tab in TherapyNotes™. You'll receive an alert on your To-Do list to review your client's e-signatures and/or completed documents so that you can review and process forms as needed. This feature also extends to all electronically signed documents, so you can review and keep track of incoming signed paperwork from patients.
We're excited about this next big step for the client portal, and there's even more to come. For more information on sharing documents, visit our help center and read How To: Share Documents With Clients on TherapyPortal.
Other Improvements
TherapyNotes 4.43 also introduces a number of smaller improvements, including:
When viewing an ERA payment, clicking the View ERA button allows you to view the ERA in a popup dialog. This dialog now includes the option to print the ERA, and clicking on the ERA number allows you to view the ERA as a full page.

We've increased the character limit to 256 on the Description field when editing or adding a service code, allowing for greater detail.
If your practice keeps patient Social Security numbers on file in TherapyNotes

™

, these SSNs are now included on exported patient spreadsheets.
Real Time Eligibility Beta
We are currently inviting a limited number of practices to get early access to real time eligibility verification. With real time eligibility verification, practices can check insurance eligibility and benefits for their clients right within TherapyNotes™. If you are interested in getting early access to this feature, please contact our success team. We will have a widespread release early next year.
While features like this are designed to make it easy to do your own billing, some practices prefer the benefits of working with a professional medical billing service. We're partnered with billing service providers that are experienced with billing in TherapyNotes™, so you don't have to change your workflow. Learn more about our premium medical billing services.
* The content of this post is intended to serve as general advice and information. It is not to be taken as legal advice and may not account for all rules and regulations in every jurisdiction. For legal advice, please contact an attorney.